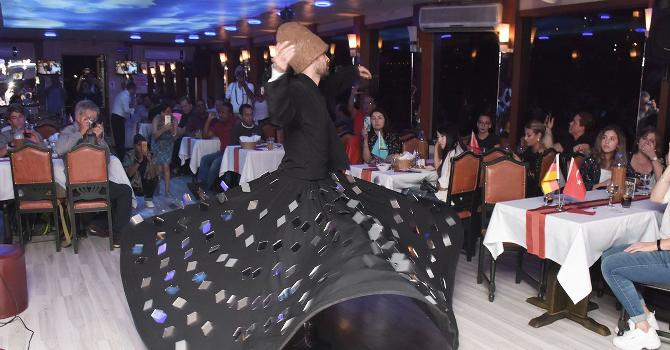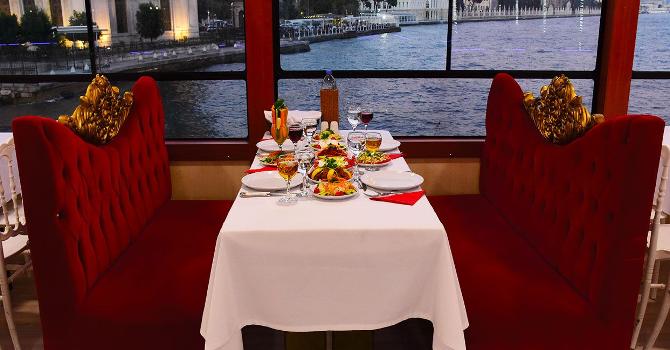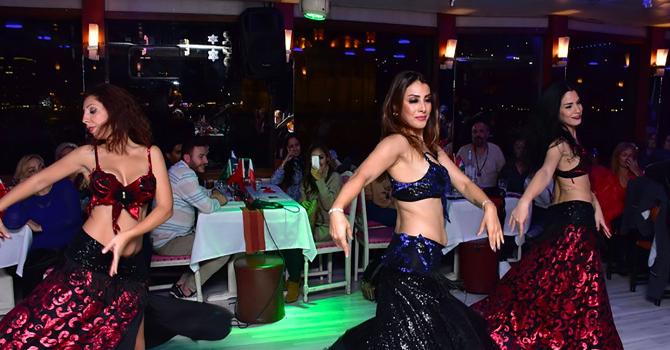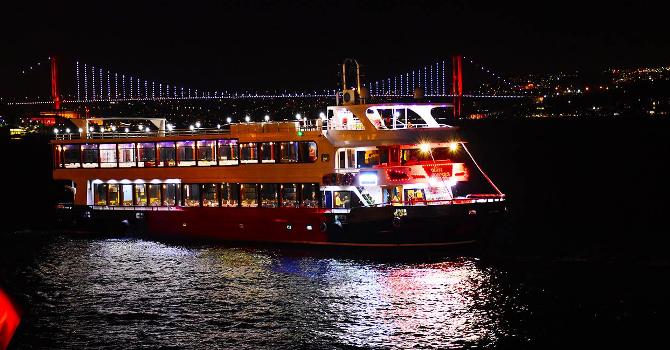 Overview
Come onboard for a crazy night full of shows from oriental folklore to belly dancing. All these happening on a boat cruising through fantastic Bosphorus in Istanbul…
Highlights Of Bosphorus Dinner Cruise:
Enjoy an authentic extravaganza over Bosphorus and dine as the city lights illuminating the night from the shores of Istanbul
Join the party on the boat staging a great collection of shows while having a menu of hot and cold appetizers
Go upstairs and breathe the famous Bosphorus breeze under the sky where various people and many cultures meet between Europe and Asia
Benefit from transfer service from and to your hotel, arrive in style and comfort

What To See And Do At The Dinner Cruise On Bosphorus?
The quality of service starts with your air-conditioned ride from your hotel since pick-up transfer is included from all central districts of Istanbul like Taksim, Galata, Eminonu, Sirkeci, Sultanahmet and Fatih.
The music and performances on the boat display the traditional Turkish culture with a great range of diversity. The regions that are the origins of the folk dances vary from Caucasia to Mediterranean Turkey. A whirling sufi dervish ceremony will reveal a spiritual side of Turkish people while a Henna application is taking you a local wedding night. The folk dances will be followed by the Oriental Belly Dancing Show, which is the climax of the program.
Regarding the menu for the dinner, you will be served a three-coursed dinner. It starts with the famous appetizers of Turkish cuisine called "meze". The main corses come optional plates and the variety usually includes meat, fish, chicken and veggie options. The third piece could be fruits or a plate of dessert.
Soft drinks are included (Non-Alcoholic). You can upgrade to alcoholic beverages when you are on the ship.
Last bu not least, being on Bosphorus is special both day and night! This is the best way to join the party in Istanbul at in unique environment. Simply, the lights from Europe and Asia falling on you while cruising where East meets West.
Hours & Schedule
Reservation is required! You must make a reservation at least 8 hours in advance.
The Bosphorus Dinner Cruise departs daily at 20:30 from Kabataş Pier that is next to the Dolmabahçe Palace. Orient Bosphorus is the cruise name. Please be ready at the pier at 20:15.
The cruise tickets may get sold out fast at weekends or high season, so don't be late to make your reservation.
No refunds after the reservation.
If you do not attend the attraction/tour at the reservation time, you lose your right for the attraction/tour.
Remember | Terms Of Use
Is the meal included at this Bosphorus Cruise?
Yes, the dinner with unlimited local drinks (Soft drinks) are included in the price
Where does the Bosphorus Dinner Cruise go?
This is a roundtrip for a few hours as the boat sails through the Bosphorus and coming back to the same starting point
How can we find the departure point?
Once you book from here, the pick-up and return transfers are free as long as you do not stay far way from downtown or at the Asian Side. This service is provided by Orient Bosphorus Tour.
What type of drinks are free at the Dinner Cruise?
Soft drinks are included (Non-Alcoholic). You can upgrade to alcoholic beverages when you are on the ship.